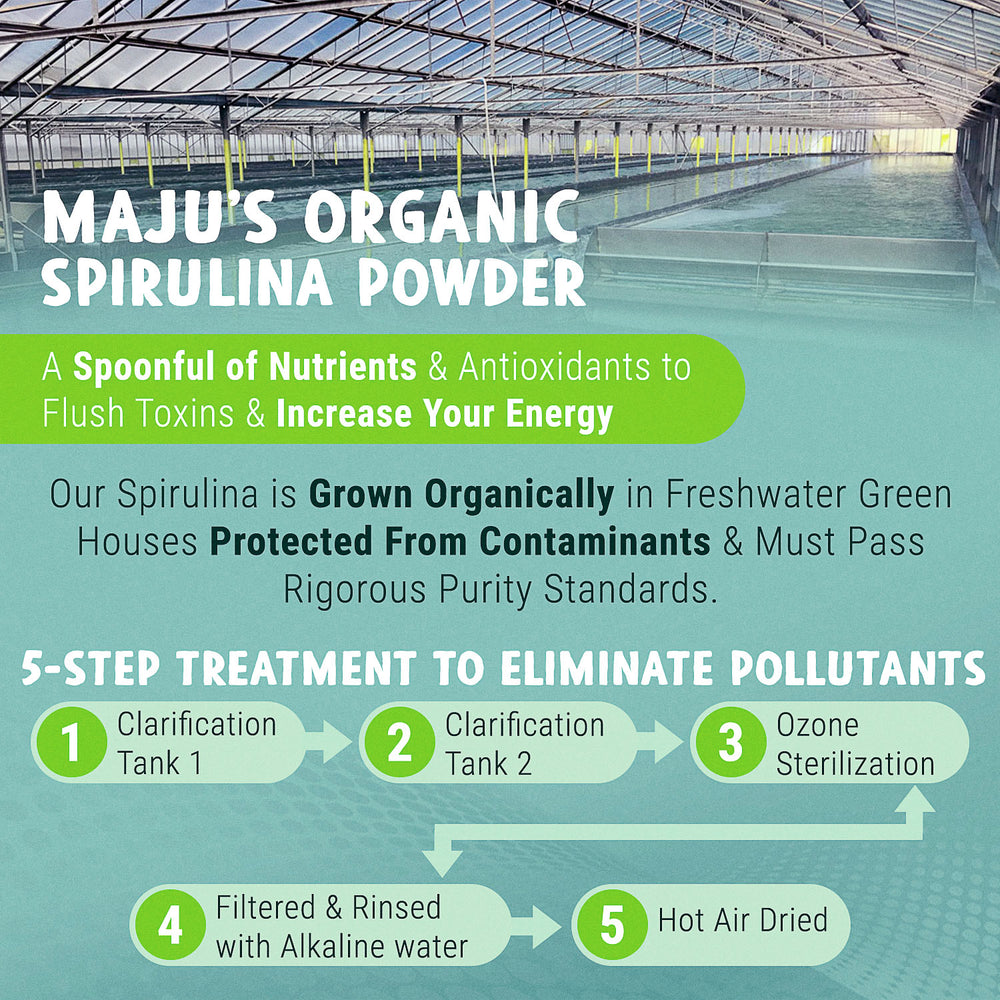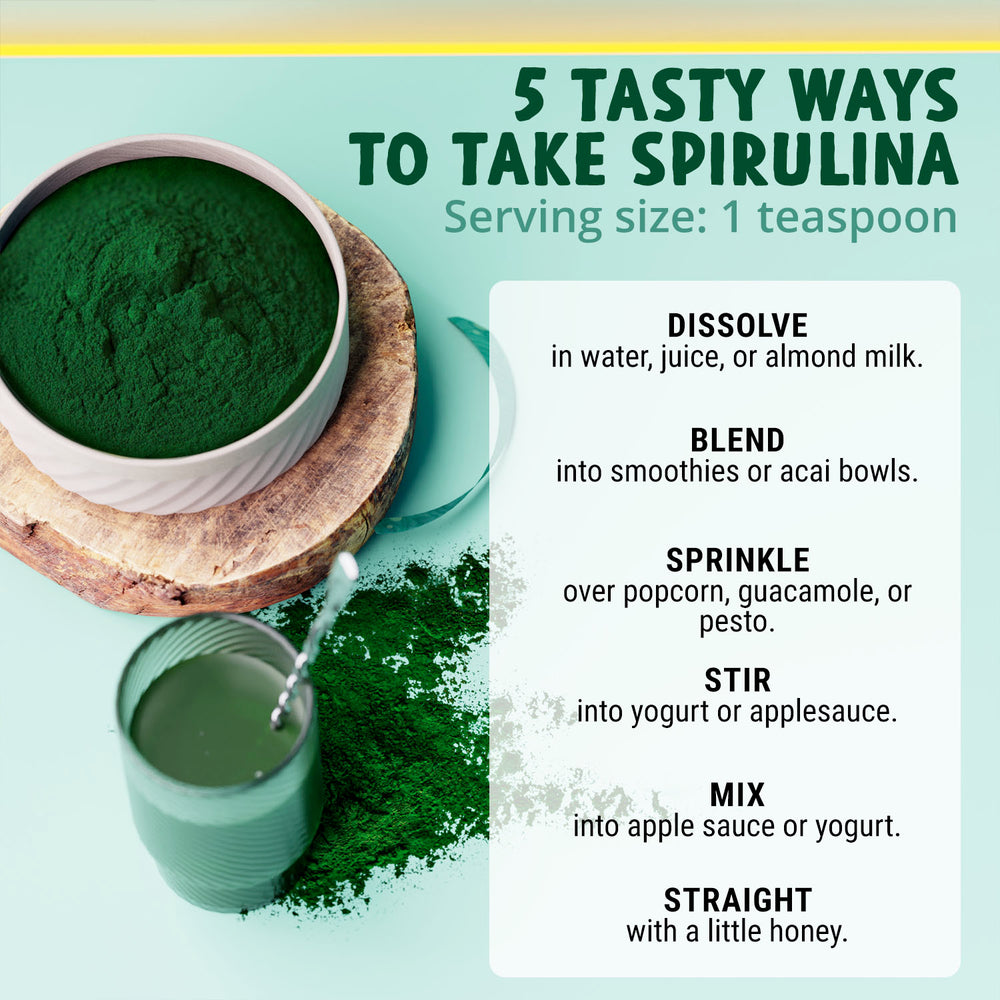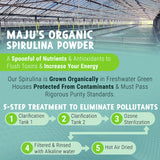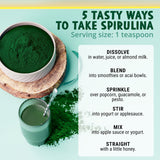 Organic Spirulina Powder (8oz)
60-Day Satisfaction Guarantee
About this product
Maju's Spirulina Powder is Non-irradiated, Non-GMO, Vegan, Microcystin Free and Gluten Free. This raw, mineral rich powdered protein burst is a natural way to give your juice a boost of vitamins and nutrients. It goes great with barley grass, chlorella, wheatgrass, and more.
Once you try Maju's clean, vibrant green spirulina, you'll never go back. Ours will engulf your senses with a crazy good, natural algae smell that you'll get nowhere else – you may even feel like Poseidon himself.
Health Benefits of Spirulina*
Strengthens Immunity

Boosts Energy
Promotes Muscle Endurance
Supports Healthy Digestion

How To Take:
Add 1 teaspoon to your favorite beverage or meal. Try stirring it into juice, smoothies, yogurt, water, or sprinkling over salad.
What is Spirulina?
Spirulina is one of the oldest ancient organisms on Earth. This green superfood is a spiral-shaped microalgae that grows naturally in the wild. It is most often found in warm, freshwater lakes. In the wild, it has a deep blue-green color. Unfortunately, Spirulina found in nature is at risk for absorbing countless toxins or chemicals from the water.
Our Spirulina is grown in isolated tanks, free from any contaminants before passing through a 5-step clarification process to ensure the cleanest end product. It is then 3rd party tested to confirm purity, potency, and that it is free of heavy metals. We feel this is the best and cleanest way to produce this product.
Key Compounds:
Spirulina contains an enormous amount of Iron and B12 - it has almost 4,000% more Iron than Spinach! In addition, it is one of the only sources of B12 vitamins in nature. Many people with a typical diet are deficient in B12, which makes Spirulina a great supplement for overall health.*
A Short History:
Historians believe the Aztecs were the first people in history to use Spirulina. They dried the algae into cakes and potentially used it as their primary source of protein. In 1940, explorer Pierre Dangeard published a report on this "nutritious algae" that was being eaten by people living around Lake Chad in Central Africa. About twenty-five years later, botanist Jean Leonard noticed the sale of green cakes in the markets there. He noted about 70% of the food eaten in this area was accompanied by a sauce made from the dried spirulina cakes.
In 1967 spirulina was established as a "wonderful future food source" in the International Association of Applied Microbiology (Sasson, 1997). Today, Spirulina is used as a nutritional supplement in over 77 countries.
Additional Resources:
Spirulina Powder 101: Why You Should Try This Microalgae
Guaranteed Safe & Secure Checkout

As Seen On

---
FDA Disclaimer
These statements have not been evaluated by the Food and Drug Administration. These products are not intended to diagnose, treat, cure or prevent any disease.