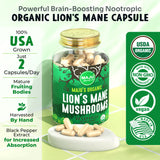 Lion's Mane Capsules (90ct)
60-Day Satisfaction Guarantee
About this product
Maju's Lion's Mane Capsules are exclusively grown in the Pacific Northwest, are USDA-Organic, produced in a GMC Certified Laboratory and are 3rd party certified to ensure consistency and superior purity.
We added Black Pepper Extract to ensure your body absorbs the maximum amount of goodness from every capsule. Combined with the fierce potency of our steam extracted mushrooms, these capsules offer you seriously strong nootropic action.
Dominate your day's workload, navigate tricky problems and overcome tough tasks with our Lions Mane Mushroom supplement capsules. Demand more from your cognitive performance. Aid your memory and get greater clarity with this powerful nootropic.
Our Lion's Mane Mushroom Capsules can work to strengthen your immune system, support healthy inflammation and giving your body robust antioxidizing action. Take action and help support your body's vital functions with this powerful mushroom supplement.
Health Benefits of Lion's Mane*
Strengthens Cognitive Ability
Fights Fatigue
Improves Immune System
Combats Stress & Anxiety
How To Take:
Take 2 capsules by mouth daily with a full 8 oz glass of water.
What is Lion's Mane?
Lion's Mane mushrooms are large, white mushrooms with a shaggy appearance just like a real lion's mane. They are considered "adaptogenic" or "medicinal" mushrooms by professionals in the health community.
Key Ingredients:
Lion's Mane: Also known as Hericium erinaceus, enhances brain function, boosts energy and mental performance. This mushroom is known to naturally combat depression and anxiety by boosting energy and reducing fatigue. In animal models, it has been shown to enhance nerve regeneration.*
Black Pepper Extract: Piperine helps the body better absorb the turmeric and take advantage of the various benefits.*
A Short History:
Lion's Mane Mushroom, or Hedgehog Mushroom, is an edible fungus with a long history of use in traditional Chinese medicine. Native to North America, Asia and Europe, this unique mushroom is identified by its shaggy, globe-like appearance. Rich in physiologically important components, this shroom contains β-glucan polysaccharides, which according to research, are responsible for immuno-modulating, hypolipidemic, antioxidant and neuro-protective activities.*
Additional Resources:
4 Best Medicinal Mushrooms For Brain Health
Guaranteed Safe & Secure Checkout

As Seen On

---
FDA Disclaimer
These statements have not been evaluated by the Food and Drug Administration. These products are not intended to diagnose, treat, cure or prevent any disease.